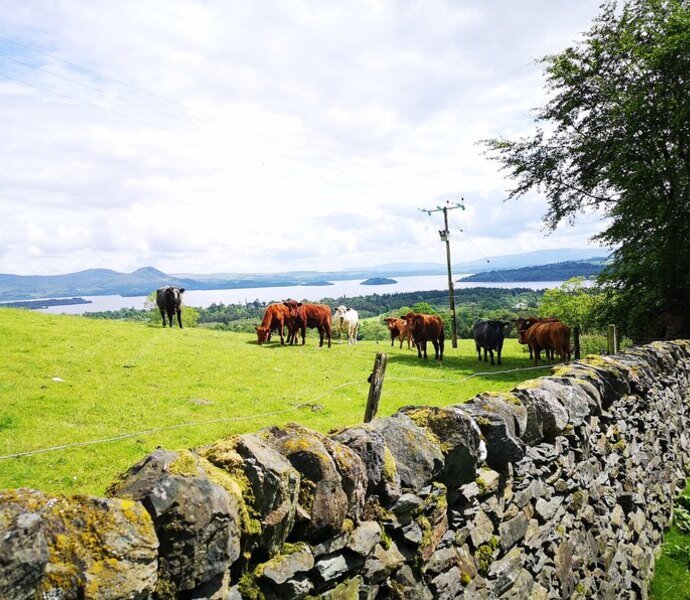 Laying stones without using mortar is an age-old technique which keeps the walls strong and stable and is part of our heritage.
Our fields still have their original stone walls build in the 1700's. You will learn the same principles of construction as our family used 200 years ago.
This hands on learning experience will teach you and preserve the craft of dry stone walling. The course is ideal for beginners, farm or estate workers or anyone interested in building or restoring their own drystone dykes/garden walls/retaining walls and raised beds.
The Course will be run by Bobby Lennox, who has lived on the farm all his days and is the 10th generation of the Lennox family to Farm these Lands. Included in your day will be a full 3 course farm house lunch.
Enjoy a day working outside, rebuilding the Legacy of the Stone walls with Loch Lomond as your backdrop.
What's Involved
Building & Packing of Dry Stone Walls
Place & Pack Throughstones Set & Secure Copestones/toppings
Strip Down Dry Stone Wall & Prepare for Rebuild
Course Info:
1 day Workshop
Cost £110 per person
Must be over 16 years old
Time- 10am to 4pm
Includes 3 course Lunch
6 Max on the course (4 people min to run the course)
What you need to bring.
Bottle water
Flask for Hot drinks
Waterproof clothing
Wellies walking boots or steal toe caps
Gardening gloves